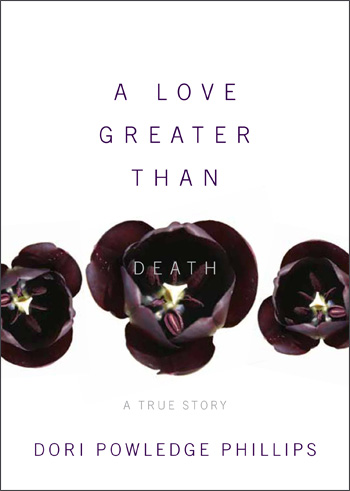 Once upon a time, there lived a little girl with dreams of a fairy tale life. She dreamed about the perfect little white house on a hill with a white picket fence, a wonderful husband and two children (of course a boy and a girl).
A fairy tale ending might seem impossible. But once you experience the love of God, your happy ending is within your grasp. Being an overcomer is the underlying message of Dori Powledge Phillips' book, A Love Greater Than Death. Through the devastation of losing her husband and four youngest children in a tragic car accident, Dori takes readers on an amazing spiritual journey. Follow Dori on her journey of loss and tragedy, faith and hope, and the supernatural healing power of God. Prepare yourself to laugh a little, cry a little, and discover A Love Greater Than Death.
A Christian, a wife, and a working mother, Dori Powledge Phillips is now following the vision God has given her to share the message of the Gospel with the world. Dori travels to churches, conferences and other events to share her story with the hope of leading others into the same freedom and healing that she has received by the divine grace and power of God.
Get your copy of the acclaimed book, A Love Greater Than Death, today (direct from Dori via PayPal, hardback from Amazon, kindle from Amazon, or hardback from Tate Publishing)!